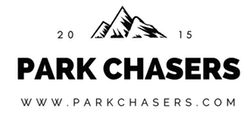 The Best
Hikes
Campgrounds
Sunsets
National Park Adventures
start here.
Hi, We're Greg & Amy - Aka "The Park Chasers"
We started Park Chasers in 2015 with one mission: To help people make the most out of a visit to any one of the 400+ sites in the National Park System.


Initially, we just shared our photos of our trips with friends and family. Then we started hearing about how much our experience with camping, hiking, and budget travel was helping others plan national park vacations. Years later we've grown into a community of like-minded travelers looking to experience our pristine and protected places.


To date we've visited 96 national park units and 19 affiliated sites.  To find out where we've been, check out our #ParkChasing record.  Keep scrolling to see what else you can find while you're here.


Greg & Amy
Start Your Own #Parkchasing List
Looking to start your next national park adventure?
Download a free national park checklist and share your #parkchasing list!